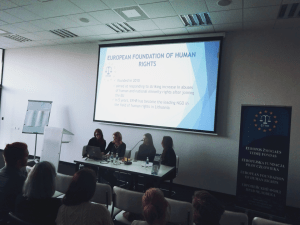 Like every year, on the 10th of December, we celebrated Human Rights Day. This date honours  67 years since signing the Universal Declaration of Human Rights, which was adopted by the United Nations in 1947.
On this occasion representatives of the European Foundation of Human Rights (EFHR) participated in a seminar organized by the European Law Students Association (ELSA) at Mykolas Romeris University (MRU) in Vilnius.
The theme of the meeting, which was organized in one of the MRU LAB conference rooms, was the issue of racial discrimination in Lithuania as well as preventative mechanisms. The guests – including international students – all had the chance to listen to the excellent speeches.
Agneta Lobačevskytė, Ombudsperson at the Office of Equal Opportunities, presented the statistics concerned with complaints about discrimination which are sent to the institution. It is a shocking fact that the Equal Opportunities Ombudsman's Office does not receive many complaints related to discrimination on the grounds of race. According to the Ombudsperson, this can be related to insufficient knowledge of human rights and the fact that an individual cannot assert their rights. Agneta Lobačevskytė also mentioned the difficult task which the government might face because of the increasing number of foreigners, which may provoke more incidents of discrimination.
EFHR's volunteers – Aneta Maciejewska and Leah Nedahl – presented EFHR and the steps we take to fight against hate speech. EFHR lawyer Ewelina Baliko talked about racially-motivated crimes. She shared some examples which took place in Lithuania and presented the statistics of the Organization for Security and Co-operation in Europe (OSCE).
The last lecturer, Mark Adam Harold, a member of the local government in Vilnius who comes from Great Britain, shared his personal experiences and reflections concerning the lives of foreigners in Lithuania.
We at EFHR are so pleased to have been given the opportunity to participate in the event. One of the priorities of the foundation is to increase awareness of human rights and work towards eliminating discrimination. We believe that such events help to increase tolerance. We hope that Human Rights Day will not be the only chance we have to talk about such significant issues and we are looking forward to co-operating for similar initiatives in the future.
EFHR