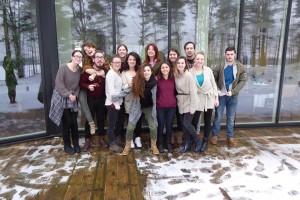 From February 16th – 20th an EVS mid-term training session took place at the Margio Krantas resort, (a hotel and events complex just outside of Trakai). Leah Nedahl and Aneta Maciejewska, the European Foundation of Human Rights (EFHR) volunteers who are taking part in the project "Promote diversity, promote human rights", attended the course, along with other EVS volunteers in Lithuania.
The session, which proved an excellent opportunity to see friends living in other parts of Lithuania and to make new friends, consisted of lots of group activities and fun. Moreover, the session also provided useful information, new ideas and was a source of inspiration and motivation for all.
On the first day the focus was on getting to know the other volunteers, sharing information and experiences about individual projects and thinking about the benefits of taking part in an EVS project. Over the course of the training session activities included team challenges, creating a mini conference with the main theme being Lithuanian culture and enjoying a relaxing evening at the centre's sauna. On the final night the group cooked delicious traditional dishes from their home countries (the Italian pizza and Georgian Khachapuri were particular favourites).
The venue itself was situated in a beautiful location, with the hotel and sauna-house overlooking Lake Margis and offering wonderful views of the surroundings. The facilities, excellent trainers, attentive staff and pleasant atmosphere made for a superb stay for everyone. Our volunteers inform us that they are already missing the tasty food, great company and stunning scenery!
Besides EFHR volunteers, the training was attended by EVS participants from such organizations as: Pal. J.Matulaičio socialinis centras, "Lesė" CO, Tremtinių namai and others.
The European Voluntary Service is a part of the Erasmus + Programme which offers financial support for institutions and organizations working in the field of education and training, youth and sport in Europe. The programme was designed as a response to the challenges highlighted by EU plans such as the Europe 2020 strategy. Its goal is to develop certain skills of the participants, to increase their employability, to enhance education systems Europe-wide and to support youths. EVS offers young people between the age of 18 and 30 the opportunity to volunteer for up to 12 months in another country within or outside of the EU. It affords volunteers the chance to make a strong contribution to the daily work of host country organizations and benefits local communities as well as being a terrific chance for volunteers to develop skills and experience life in a different country.
EFHR