The European Foundation of Human Rights (EFHR) is an organization actively operating in Lithuania since 2010. It was established in response to the striking increase of the abuses of human and national minority rights in Lithuania observed after joining the European Union.
Archive for September, 2011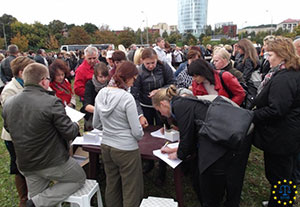 fot.EFHR On Wednesday, 28thSeptember the European Foundation of Human Rights forwarded three petitions to the EU structures: European Parliament and the European Commission against: Processing of personal data revealing ethnic origin; Education Act, which discriminates ethnic minorities in Lithuania; Suppression of rights of the Polish minority in Lithuania (in support of the complaint of Mr. Tomasz Snarski) (the content of the petition (can be found)on the website: www.efhr.eu). ...